Papilonaceous Jacquard silk weaving, 2016
October 2016
On the 28th October 1996 Papilionaceous shipped its first delivery of jacquard woven silk ribbon.

Open Exhibition:Water at The Flavel Arts Centre, Dartmouth until October 16. Two silk panels by Robert Ely on show.
Very many thanks to The David Alexander Open Art Exhibition Fund and The Flavel Arts Centre who awarded 'Interludes II' first prize in the exhibition.
We are always keen to see how textiles fare when exhibited alongside painting, print, photography and other media that as a public we most often see in a gallery context.
October 2016 also marks the 20th anniversary of the first production of Papilionaceous silk ribbon. As such this award is particularly heartening.
More silk panels by Robert Ely here: Woven Silk Panels
September 2016
Captain Ross Poldark is back on our screens in Season 2 and we are pleased to see he has kept hold of his best woven in the West Country silk braces from Season 1.
More of our work for the screen can be seen in the Film & TV section.
July 2016
A busy month of production with many braces designs back in stock:
June 2016
Complexity 2016: The International Biennial Exhibition of the Complex Weavers organization is on now at the Kavanagh Gallery, Fine Line Creative Arts Center, Saint Charles, Illinois
Interludes III by Robert Ely was selected to appear in this international juried exhibition.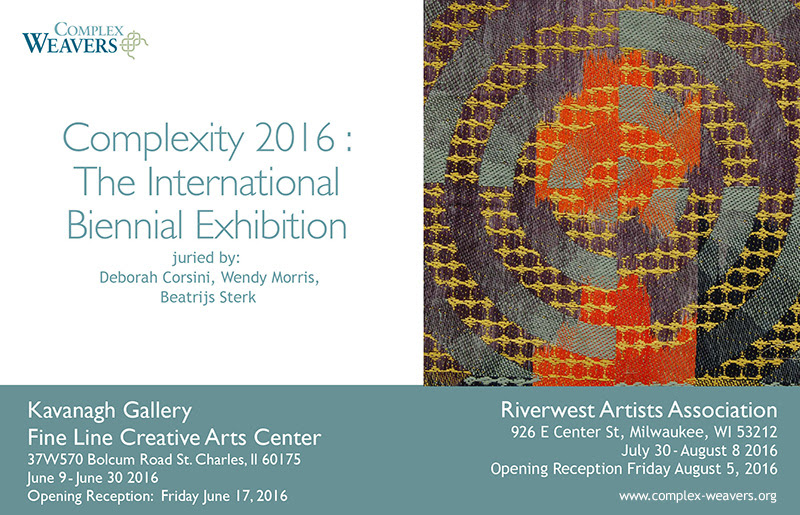 April 2016
Commemorating St George's Day  and the 400th anniversary of William Shakespeare's death this month and with our silk bookmarks.
The 'Henry V' design is double sided and features a portrait of Shakespeare with Henry's 'Once more unto the Breach…' speech from Act 3, scene 1: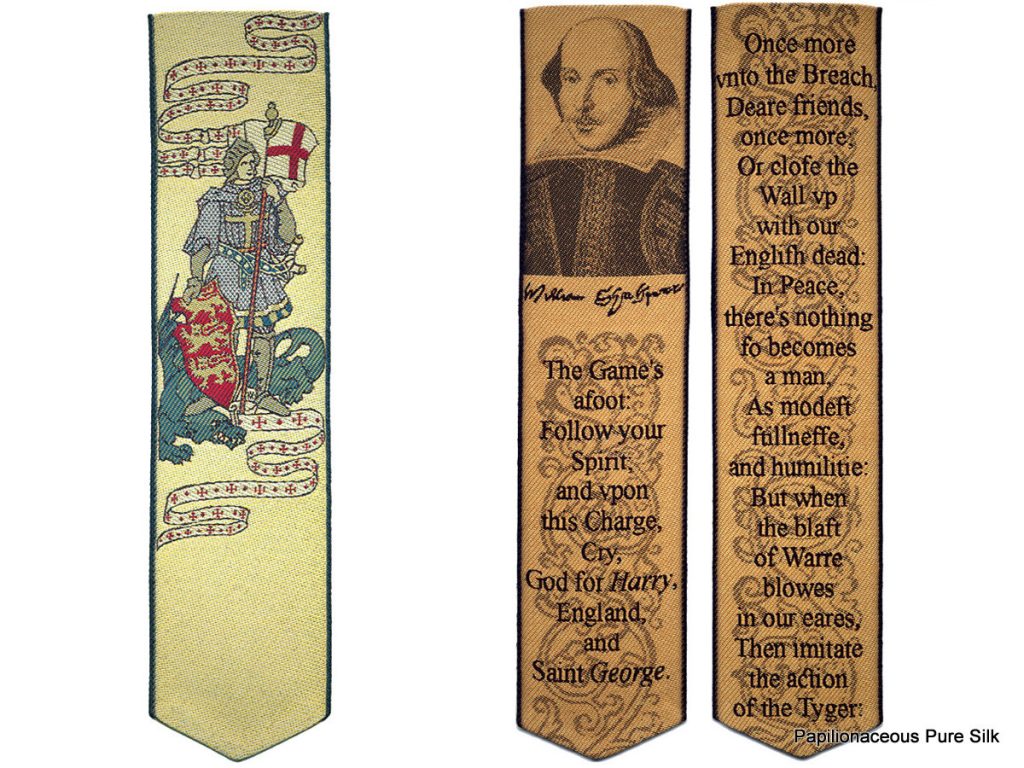 March 2016
'Into the Woods' by Robert Ely is on display at Harbour House Centre for Arts and Yoga Kingsbridge, South Devon 19 March – 13 April 2016.
More silk panels by Robert Ely can be seen on the Woven Silk Panels page.
February 2016
Papilionaceous at the movies this month:
January 2016
Happy New Year & welcome to our 20th anniversary year: 1996-2016
Papilonaceous Jacquard silk weaving, 2015
December 2015
Some of our favourite things this month:
November 2015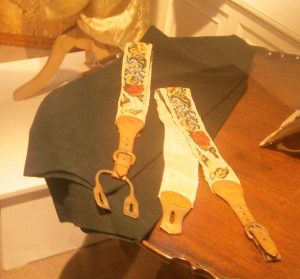 'The F-word: the changing language of fashion'
at the National Trust's Killerton House, Exeter
Spotted a pair of beautiful needlepoint braces in this exhibition exploring how revolutionary innovations in fabric, cut and fastenings have changed the shape of fashion for ever.
This month we have exchanged our usual black silk warp on two of the tapes for a 'natural' coloured one in order to weave these exquisite trims used by costume designers working on period dramas for both television and film: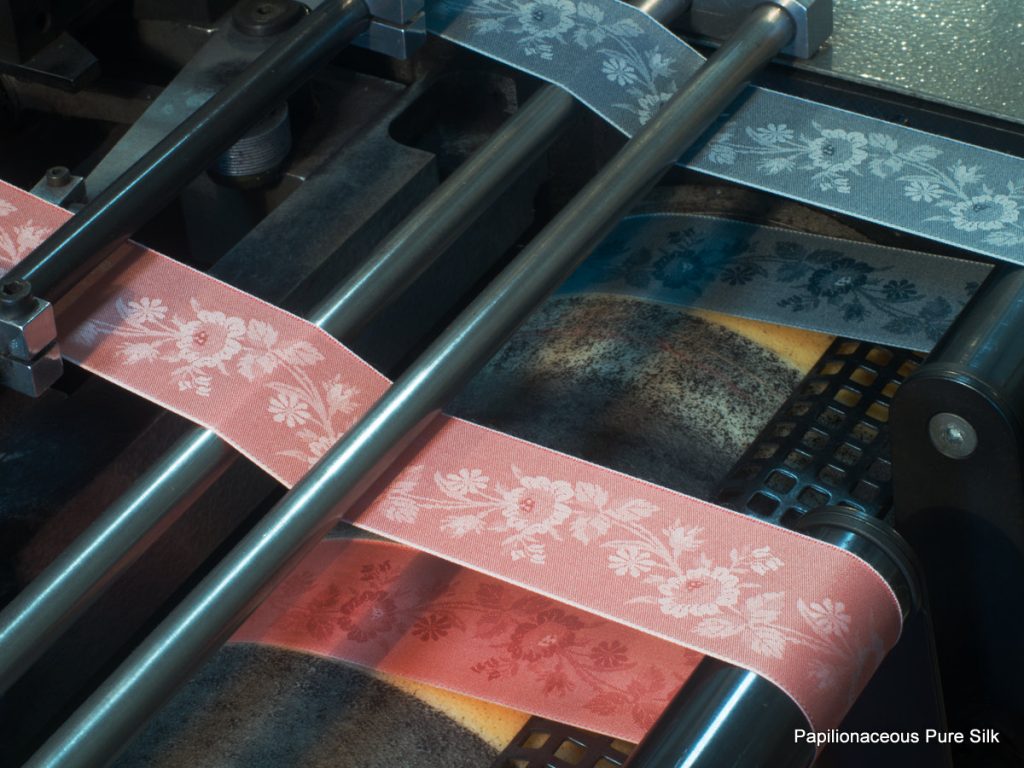 October 2015
Just back from The Knitting and Stitching Show at Alexandra Palace. Many thanks to everyone that stopped by and if you have any further questions or comments please do get in touch through the 'Contact Us' link top right above.
Two recently completed works made their first appearance at Knitting and Stitching Show Alexandra Palace:
September 2015
Albert Thurston Tulip silk braces have just arrived:
Available now on: amazon.co.uk
& amazon.com
September sees the countdown to the Knitting and Stitching Show, 7th to 11th October in The Great Hall at the stunning Alexandra Palace.
Now in our twentieth year we continue to weave jacquard silk ribbons entirely on site in Dartmouth, Devon.
On show this year are fine-art silk panels by Robert Ely alongside silk ribbons, limited edition braces and jacquard woven bookmarks.
We shall be in our usual spot (TGA10 at the Palm Court end of the Textile Gallery) and hope to see you there.
August 2015
This month, Papilionaceous shut up shop for a Summer break. Our travels in Europe took in an excellent Museum of Local History in Windischeschenbach, Germany where we discovered a recreation of a tailor's workshop: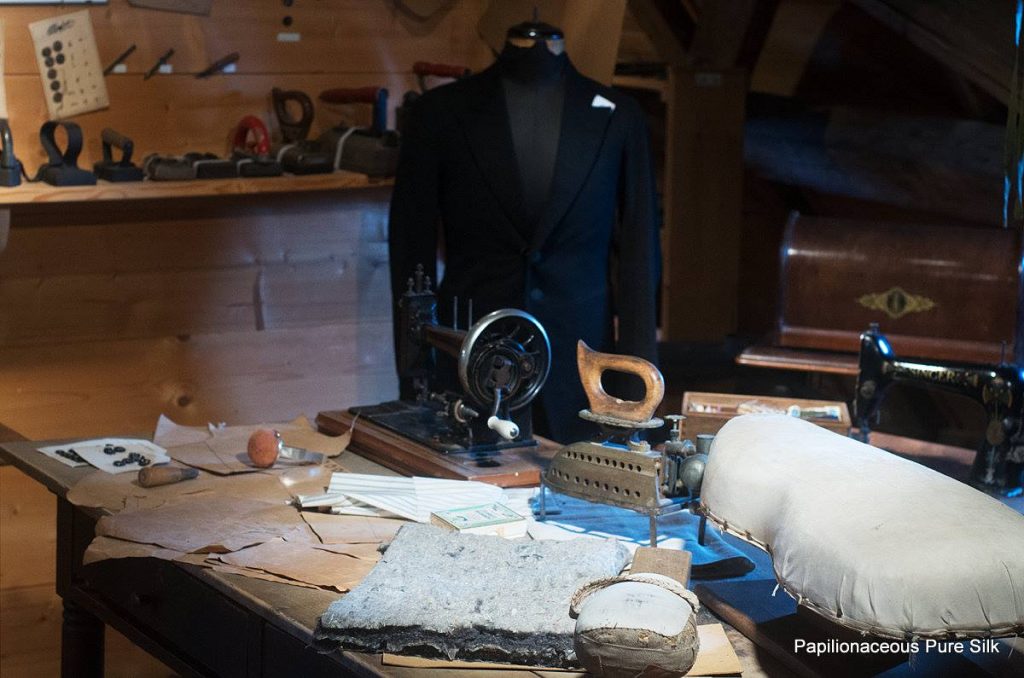 The collection also included some 19th century costumes such as this Gentleman's evening coat: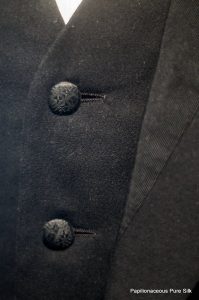 Papilionaceous are proud to be carrying on the tradition of woven silk buttons over 100 years later: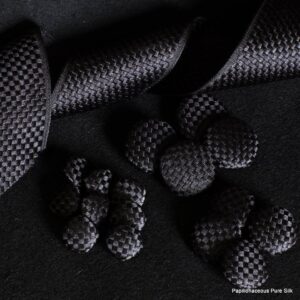 July 2015
The 144th Open is underway at St Andrews and Pachacuti has again collaborated with Glenmorangie to produce beautiful Panama hats for the VIPs. The silk ribbons are custom woven by Papilionaceous in Devon.
Made in England
June 2015
Robert Ely: Works in Silk, is now on until the 28th June at the Flavel Arts Centre in Dartmouth
May 2015
Just arrived: clip on buttons for braces.
Why? If the trousers you want to wear don't yet have buttons on, and the braces you want to wear have proper traditional button ends then these 'instant' buttons solve the problem!
Albert Thurston Clip-on brace buttons available now on amazon.co.uk
Chelsea Flower Show (in Chelsea Blue)
The Albert Thurston Limited Edition Gallery now stands at 55 pairs.
May the fourth…
April 2015
New Silk Braces
Brand new Albert Thurston Limited Edition just in: 'mole in one
' from the original by Simon Drew.
Papilionaceous in Poldark
We were delighted to spot some of our ribbons in the current BBC Production of 'Poldark'.
Ribbons have previously been used in period dramas including the BBC's Great Expectations and Little Dorrit. They have also featured on the big screen in The Young Victoria and Pride and Prejudice. See the 'Film and TV' section for some more bonnet spotting.
New stock of Albert Thurston Limited Edition Silk Braces has just arrived and is available now on amazon.co.uk
& amazon.com
ceci n'est pas une paire de chaussures
March 2015
Six more pairs of braces added to the Albert Thurston brace collectors archive today.
All of these designs were produced by Papilionaceous at our original site on Highbury Grove, London.
February 2015
Love is in the air…
A silk bookmark is the ideal gift for Valentine's Day, it can even be sent anonymously direct to your loved one. The only question is which one to choose. Our range of jacquard woven designs includes traditional florals as well as some more racy designs. To see the full range, click here
WOLF HALL
The perfect bookmarks to accompany Hilary Mantel's best selling novels 'Wolf Hall' and 'Bring Up the Bodies', the inspiration for the current BBC drama 'Wolf Hall'.
These two silk bookmarks are after Holbein's portraits of King Henry VIII and his wives. B1291 features Henry VIII alongside his first three wives: Catherine of Aragon, Anne Boleyn and Jane Seymour.
Available from: amazon.co.uk
B1292 features Henry VIII alongside his last three wives: Anne of Cleves, Catherine Howard and Catherine Parr.
Available from: amazon.co.uk
January 2015
Details of our jacquard woven wall pieces can be found in the 'Silk Panels' section of the site.
New braces for the New Year!
New stock of Albert Thurston Limited Edition Silk Braces now in.
Designs by Simon Drew, Monika Slivkova and Robert Ely, silk facings woven by Papilionaceous in Dartmouth, Devon and available on Amazon now:
Albert Thurston Ltd Editions on amazon.co.uk
Albert Thurston Ltd Editions on amazon.com
Save
Save
Save