November 2011
New stock of braces has arrived!
Available now from amazon.co.uk
All of the braces are Albert Thurston Limited Editions of 500.
Made in Leicester, UK and featuring Papilionaceous woven silk jacquard facings.
Designs available are:
Martini
Chorus Line
Lilith
Water Serpents II
trust me, I'm a ducktor
and
tall, duck and handsome
October 2011

With the on-set of the chilly weather, this is our take on New York in Winter.
Featuring the Chrysler, Woolworth and Empire State Buildings.
Also worthy of note is the fact that this is the only book mark in the range that uses Lurex thread to highlight details in addition to our customary silk.
New York silk bookmark at amazon.co.uk
September 2011


The first BMC Mini rolled off the production line on 26 August 1959.
52 years later our new bookmark celebrates this iconic British car.
Mini Silk bookmark at amazon.co.uk
It is also now just a few weeks until the 2011 Knitting & Stitching show at Alexandra Palace.
We will be in our usual spot again: stand TGA10 in the Textile Gallery at the Palm Court end.
More details here: Knitting & Stitching Show 6-9 October 2011
August 2011
Many thanks to everyone who came to see us at the Festival of Quilts last week.
There is plenty more information all around this site but if you have any queries do get in touch, contact details are here.

photo:Flea Starr
July 2011
The Festival of Quilts 2011 is just a month away – and we will be there for the first time this year.
At the NEC Birmingham, 11th to 14th August, Opening Hours: 10.00am to 5.30pm (closes 5pm Sun)
For more information see: The Leading Quilt Show in Europe
May 2011
Ah yes, Royal Weddings!
Henry VIII knew a thing or six about Royal Weddings.
Too many wives to fit on a single bookmark so we present a pair of new bookmarks; both feature Henry in addition to either: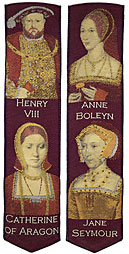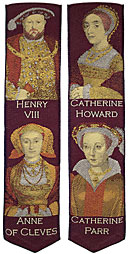 Catherine of Aragon, Anne Boleyn and Jane Seymour
Henry VIII (1 of 2) from Amazon.co.uk
or
Anne of Cleves, Catherine Howard and Catherine Parr.
Henry VIII (2 of 2) from Amazon.co.uk
Our third new bookmark features William Blake's illustration "The Ancient of Days" alongside the first two verses of his poem "And did those feet in ancient time" from the preface to his epic Milton, a poem.
The words far better known to us today in their setting by Sir Hubert Parry: 'Jerusalem'
Available from:
Amazon.co.uk
April 2011
"Space is the breath of art"
(Frank Lloyd Wright)
The exhibition "Open Space" is now on at Harbour House, Kingsbridge and runs until 27th April.
Included in the exhibition are two works by Robert Ely: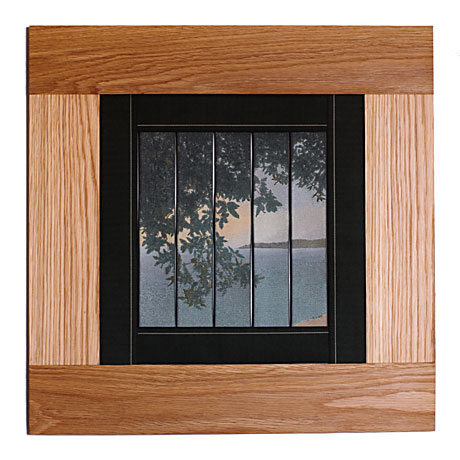 'Caspian'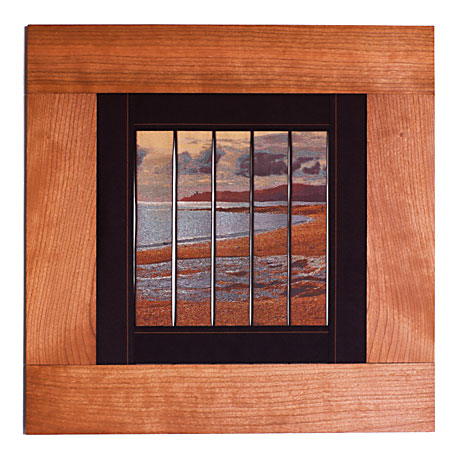 'Gods River'

March 2011
The monochrome set.
February 2011
A little early for St George's day, but England are off to a good start in the Six Nations Rugby so with a rousing chorus of "Swing Low, Sweet Chariot" we present the new St George bookmark.

St George bookmark from Amazon
January 2011
Two recent works by Robert Ely: 'Caspian' and 'Gods River' have been added to the 'Silk Panels' section.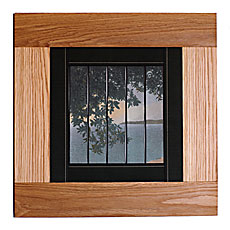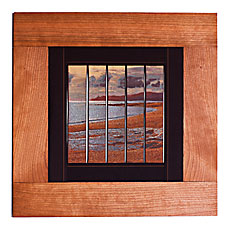 October 2010
Thank you to everyone who visited the Knitting & Stitching show – and further thanks for your patience in getting to the 'bits box'; I promise to make it bigger next year!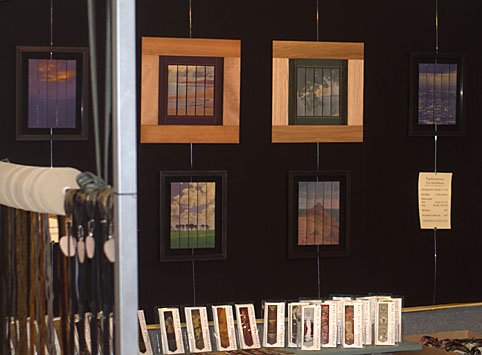 See the show page here.
September 2010
We will be returning to Alexandra Palace, North London for the Knitting and Stitching show this year from the 7th to the 10th of October.
You will find us in the same place as last year, stand TGA10.
Further details on the show available on the Knitting & Stitching show site.
August 2010
In local news:
Celebrate Start Bay is an annual event that does exactly what it says: celebrate the wonderful are around Start Bay in South Devon.
We will be there with the very first showing of some new silk panels alongside bookmarks, braces and ties.
We hope to see you there.
July 2010
Agatha Christie collected many things. One of those things being Stevengraphs; silk bookmarks or pictures made by Thomas Stevens, a Coventry silk ribbon manufacturer.
That collection can now be seen at Greenway, Agatha Christie's holiday home which is just across the River Dart from Papilionaceous here in South Devon.
The house is now owned and managed by the National Trust and more information can be found on the National Trust website.
Given our close proximity to the house and collection we are delighted to be both continuing the tradition of the Stevengraph here at Papilionaceous and also supplying our own take on these collectable bookmarks to the National Trust shop at Greenway.
The Trust have a second property close by which is well worth a visit.
Coleton Fishacre was the holiday home of the D'Oyly Carte family and is an Arts & Crafts style house set in magical gardens.
[And yes, you will find our bookmarks there as well!]
The fax room at Greenway with a selection of Stevengraphs on display.