December 2012
New stock of Albert Thurston Limited Edition woven silk braces just in at amazon.co.uk
and amazon.com
, including the much requested Hairy Fat Penguin/Fairy Hat Penguin Simon Drew design:
October 2012
We will be returning to Alexandra Palace, North London for the Knitting and Stitching show this year from the 11th to the 14th of October.
You will find us in the same place as last year, stand TGA10.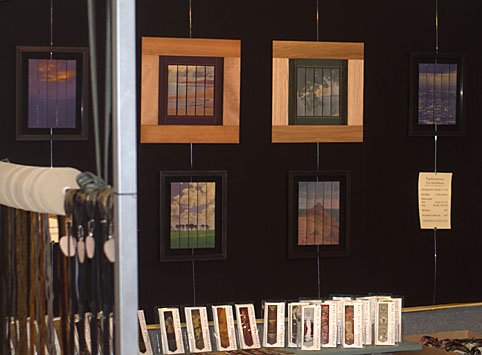 Further details on the show available on the Knitting & Stitching show site.
September 2012
New stock of braces just in, available now from:
amazon.co.uk
and
amazon.com
August 2012

photo:Flea Starr
We will be back at The Festival of Quilts this month.
At the NEC Birmingham, 16th to 19th August, Opening Hours: 10.00am to 5.30pm (closes 5pm Sun)
For more information see: The Leading Quilt Show in Europe
We have moved stand for this year, you will find us at F42
July 2012
More Simon Drew braces have just arrived, including:
gentlemen prefer ponds
and
camel in the wind
June 2012

New bookmark this month "Geisha" after the original woodblock print by Eizan Kikukawa
available from:
amazon.co.uk
amazon.com
Site navigation has also been improved (we hope); the silk bookmark index which can be found in both the top and side menus is now 'clickable' and all of the bigger images can be accessed from there.
May 2012
May the fourth be with you!
Lots of new braces just in, now available at both:
Albert Thurston from Papilionaceous on amazon.co.uk
and
Albert Thurston from Papilionaceous on amazon.com
London
New York
Mozart: Le Nozze di Figaro
Shakespeare: Henry V
Girl with a Pearl Earring
Henry VIII and his six Wives
Ballroom
Water Serpents II
Simon Drew: ele mental
Simon Drew: fairy hat – hairy fat penguin
Simon Drew: trust me I'm a ducktor
Simon Drew: sitting duck
April 2012
"Hello-
I am an artist and have an unusual request for woven ribbon. This is an inquiry to see if what I need is even possible, and if so, if it is at all affordable."
So began an e-mail that came in last Summer.
The artist concerned was Ann Morton from Phoenix, Arizona and happily we were able to work together very well.
The task was to weave 65 unique QR codes in silk to be used as identifying tags in an art project to go on show in early 2012.
"Unentitled"
February 27th – March 2nd, 2012
Arizona State University, Tempe Campus
School of Art
Harry Wood Gallery
The exhibition has now come to end and was by all accounts a great success.
"UNENTITLED, first shown in February of 2012, is a culmination of 3 years of research associated with the Collective Cover Project and my Public Action work with the homeless community in downtown Phoenix, Arizona. The installation combines 5 different works which offer an overall expression of lost individuals – those once attached to the found objects in the Collective and a number of homeless individuals whom I've come to know over time."
To continue reading about this intriguing project see the review at annmortonaz.com
and to learn more about the Collective Cover project see here.
and yes, the QR codes did work as intended!
March 2012

Now back in stock Simon Drew's 'ele mental' bookmark!
ele mental on amazon.co.uk
ele mental on amazon.com
February 2012

New bookmark this month "Baigneuse" after the original by William Bouguereau
available from:
amazon.co.uk
amazon.com
January 2012
We are pleased to announce that for the benefit of our customers in the United States, Papilionaceous silk bookmarks are now also available from amazon.com